Urgent Eyecare Service
What is the Urgent Eyecare Service?
The Urgent Eyecare Service (UES) provides urgent assessment, treatment or referral for sudden onset eye problems such as flashes, floaters, vision loss or minor eye injuries. Urgent Eyecare Service is known locally as CUES (Community Urgent Eyecare Service).
Community Urgent Eyecare Service (CUES)
A single point of access for patients – please contact CUES on 0300 303 4922.
Urgent Eyecare Service Hub opening times: Monday to Saturday - 9:00 am to 5:00 pm.
Urgent Eyecare Services is for all age groups with recent symptoms, such as:
Red eye or eyelids
Recently occurring flashes or floaters
Recent or sudden loss of vision
Foreign body in the eye
Anyone, whatever age and whether registered with an optician or not, can access treatment for any new or worsening urgent eye conditions.
This service is not a sight test. Please take your glasses and a list of current medication with you to the agreed appointment.
Please note that patients with non-urgent or longstanding symptoms are not eligible for CUES.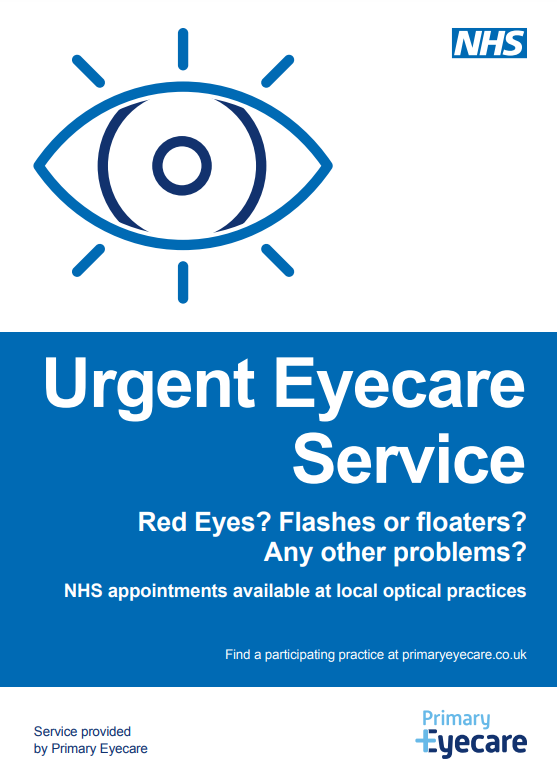 For more information, click here to view CUES leaflet.
Other details
Referral information:
Patients can self-refer into the service via the find a practice tool to find your local participating practices or be referred into the service from another healthcare professional.