The New Healthy Start Scheme
The NHS Healthy Start scheme helps young families and those who are pregnant to access healthy food, milk and vitamins.
The scheme is available in England, Wales and Northern Ireland. Scotland have their own scheme called Best Start Foods.
People apply for the scheme online and get a prepaid card, which they use to buy healthy food and milk, and collect free Healthy Start vitamins.
NHS Healthy Start beneficiaries can buy:
plain liquid cow's milk, including long-life, pasteurised or ultra heat treated (UHT) varieties of milk. This does not include milk which has had chemicals, vitamins, flavours or colours added or removed.
fresh, frozen and tinned fruit and vegetables, including loose, pre-packed, whole, sliced, chopped or mixed fruit or vegetables, fruit in fruit juice, or fruit or vegetables in water, but not those to which fat, salt, sugar or flavouring have been added
cow's milk-based infant formula milk. This must be labelled as suitable for use from birth and satisfy, by itself, an infant's nutritional needs
fresh, dried and tinned pulses, including but not limited to lentils, beans, peas and chickpeas but not those to which fat, salt, sugar or flavouring have been added
Beneficiaries of the scheme can also collect the following free Healthy Start vitamins from their local distributors:
Women's vitamins for those who are pregnant or have a child up to one year old
Children's vitamin drops for children up to four years old.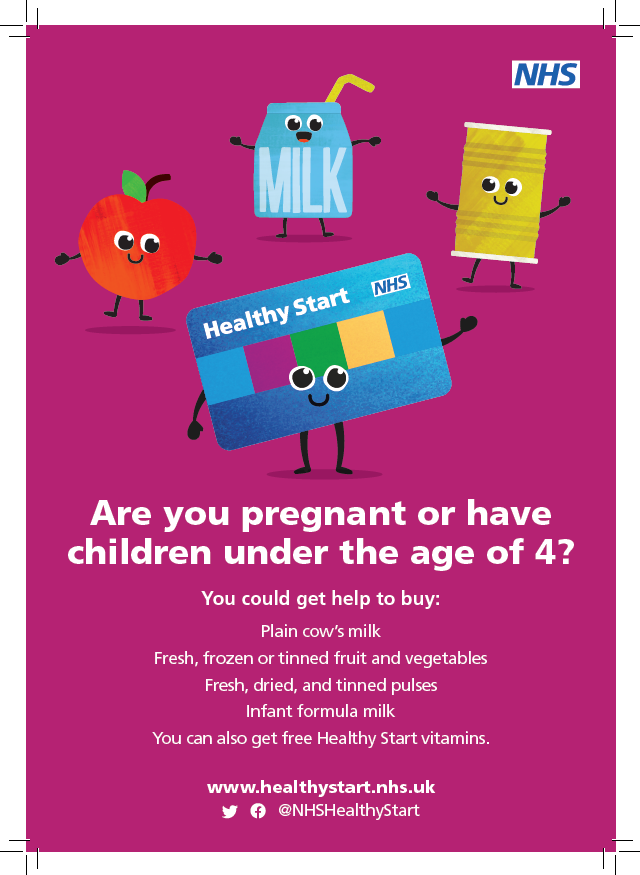 For more information and to find out if you are eligible, please visit: www.healthystart.nhs.uk